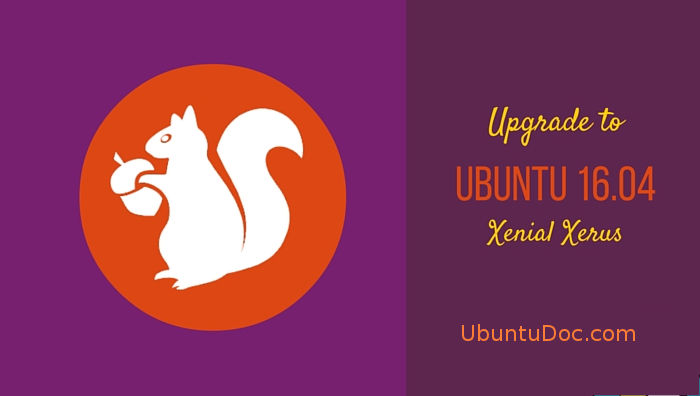 Are you a fan of Ubuntu LTS (Long Term Support) Versions? This is for you. Since the release of the 5th Ubuntu LTS, Ubuntu 14.04, two other versions have emmerged, Ubuntu 15.04 (Vivid Vervet) and Ubuntu 15.10 (Wily Werewolf). Many have upgraded their ubuntu versions to the Ubuntu 15s except the core users of LTS who wouldn't trade anything for the LTS because of its stability and most importantly, the Long Term Support that comes with it.
On the 21st of April 2016, Canonical finally releases another Long Term Version of Ubuntu, the Ubuntu 16.04 LTS (Xenial Xerus) which comes with so many amazing features that even a Trusty Tahr fan like me would be forced to upgrade, after all the 16.04 is also an LTS.
Why Upgrade to Ubuntu 16.04 LTS?
So many questions must have been going on your mind, like why should you upgrade to a new version when your current version is stable and working fine. Below are some reasons you should upgrade your version of Ubuntu to the latest release;
1 – Support
One thing you need to know is that every version of Ubuntu has an expiry support, the LTS release has a support span of 5 years while the normal releases support lasts for a period of 9 Months. Therefore, to always enjoy the official support of Ubuntu, upgrade is surely required.
2 – Upgrading
Using a current version of Ubuntu makes it easier for you to upgrade to the next available release without issues. For example, a user of Ubuntu 15.10 can easily upgrade to Ubuntu 16.04 since that is the latest release. In other instance, an Ubuntu 12.04 LTS user cannot upgrade to Ubuntu 16.04 LTS though they are both LTS, but he'll be forced to upgrade to 14.04 LTS before jumping to 16.04
3 – New Features
Every Ubuntu release always come with something new. The Ubuntu 16.04 is not an exception, their are great features in the Xenial Xerus which will make anyone to switch. Some of these include a better Unity Interface, a better Gnome software centre, Movable Unity Launcher and many more.
4 – End of Support Life
For those who are still feeling reluctant to upgrade their Ubuntu operating system, if you're still running Ubuntu 12.10, 13.04, 13.10, 14.10 or 15.04, you should know that these releases have met their support span and no longer supported. Therefore, it is now mandatory that you upgrade to a more recent version of Ubuntu.
Will I lose my Settings, files and documents?
Though it is always recommended to take a backup of your important files when performing any major changes to your PC to be on a safer side.
NO. Performing an LTS to LTS upgrade is always recommended as you'll not lose your settings, Files or documents. And only the application that does not meet the Ubuntu 16.04 requirement wil be removed from your PC. Every other thing remains the same way they were before the upgrade.
And also upgrading from release such as the 15.10 also keep your files and settings intact.
If you're upgrading from a lower version of ubuntu (Ubuntu 12.10, 13.04, 13.10, 15.04), it is recommended you take a full back up of your computer because upgrading from these versions requires 2 or more step upgrades before you can finally upgrade to Ubuntu 16.04 LTS. And instead of upgrading from one release to another I'll recommend after backing up your data, do a fresh install.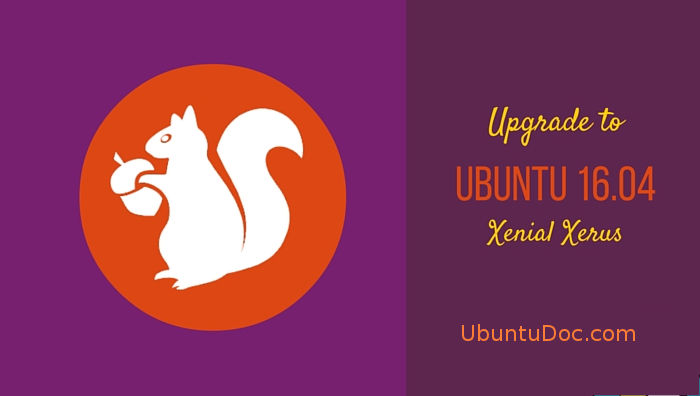 How to Upgrade to Ubuntu 16.04 LTS from Ubuntu 14.04, 15.10 in 30 Minutes
Step by Step guide to Upgrade to Ubuntu 16.04 from Ubuntu 14.04 LTS and Ubuntu 15.10
You should note that upgrading to Ubuntu 16.04 from Ubuntu 14.04 is not enabled by default, it is only enabled after the first point release of the new LTS version but in this guide, we'll show you how you can still perform the LTS to LTS upgrade in easy steps.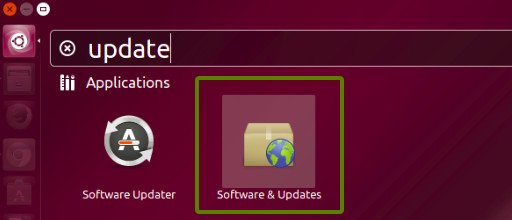 Step 1 – Preparing your System
— Goto the Unity Dash and search for Update, click on Software and Updates.
— On the next pop, click on the Updates tab, and under the 'Notify me of new Ubuntu Version' select For Long-Term Support Version.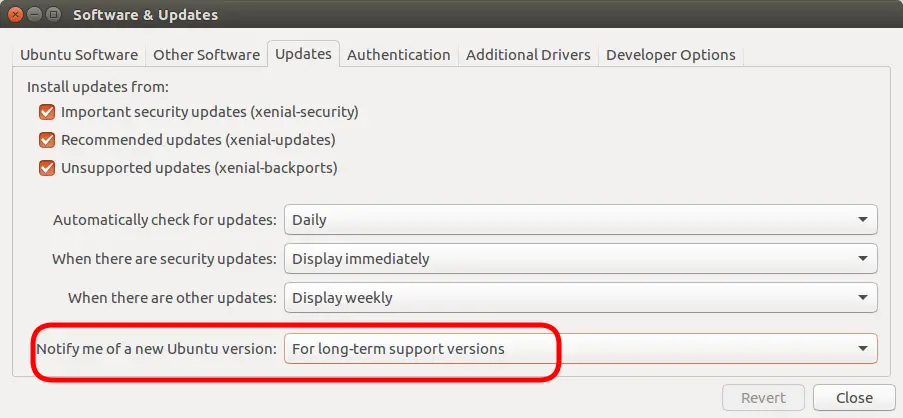 Step 2 – Run all Pending Updates
Again from the Unity dash, search for update, this time click on software updater. Leave the updater to run and make sure you update all applications and packages from the update list. Note this is very important as you cannot upgrade Ubuntu to the next version without properly checking that you update the currently installed Ubuntu packages and softwares.
Step 3: Run the Upgrade Command
Open your Terminal from the dash and key in;
sudo update-manager -d
The update manager will once again check if your OS and applications are up to date, then it i'll trigger an upgrade option, Simply Click 'Upgrade'.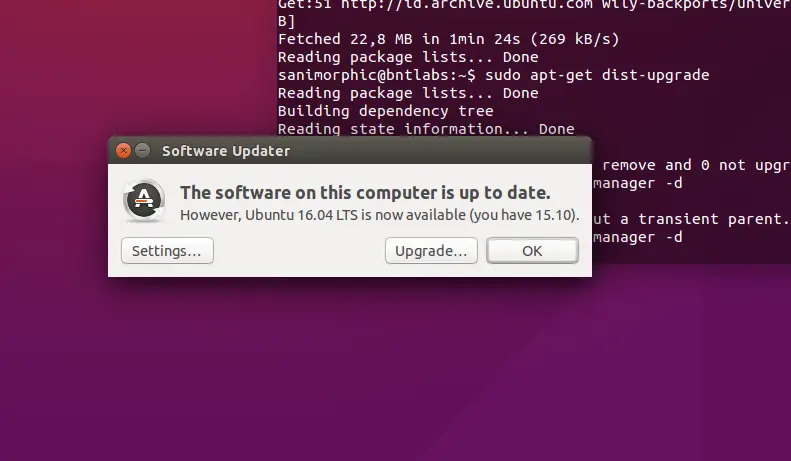 The next screen displays the release note of Ubuntu 16.04 LTS and you're required to simply click on 'upgrade' again.
The upgrade will then check the system installed packages and will alert you the ones that will no longer be needed by the updated Ubuntu version.
You'll get a message like '1 installed package is no longer supported by Canonical. You can still get support from the community' and other messages which include the number of packages that'll be removed from your current Ubuntu version and also the size of the Upgrade (Usually between 1.1GB to 1.3GB if you're upgrading from Ubuntu 14.04 LTS and less when upgrading from Ubuntu 15.10).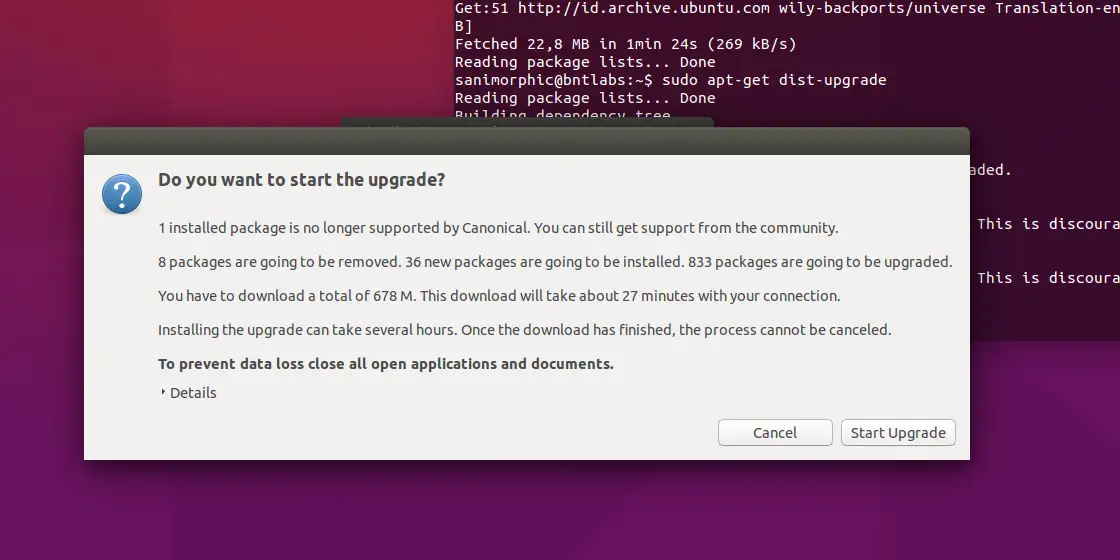 The upgrade should take between 30-45 minutes if you're using a decent internet connection.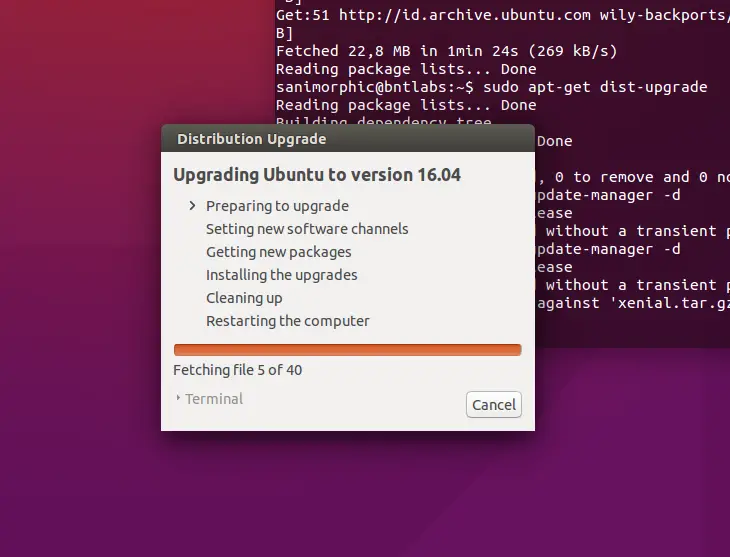 Now all you need to do is relax and sip a cup of coffee while the Upgrade takes care of itself. At the end the computer will ask you for a restart. Simply restart and you're welcome to Ubuntu 16.04 (Xenial Xerus).