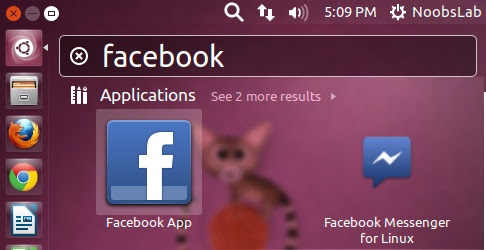 This article is about tips for using Facebook features on your computer under Ubuntu. Ubuntu provides several software packages making the use of customizable Facebook (do apt-cache search facebookto convince you).
Massive download of photos
Uploading photos via the Java applet
The Facebook site offers an import page containing a Java applet. This applet may not work properly.
If this happens to you, you're probably using the OpenJDK java machine. I advise you to install the Java virtual machine installed by Sun. To do this, go to the page devoted to Java.
Download via F-Spot
Introduction
F-Spot has an export module to Facebook. This help is for those who already use F-spot to classify their photo. If this is not your case, upload your photos before you start.
Export photos
To export photos, select the photos you want to export.
You can select several photos by clicking on them while leaving the Ctrl key pressed. Similarly, select a range of photos by selecting the first photo, leaving Shift pressed, select the last photo. You can combine both …
Go to the "Photo" menu → "Export to" → "Facebook". Then click on "Connection" and follow the directions.
You can even check the boxes "Stay connected" so that the connection is automatic and "Confirm photos automatically" so you do not have to go to the Facebook site to confirm the import.
Marking your friends on the photos
The Facebook export module does not support the marking of your friends on the photos. You will need to go to the Facebook site to do so.
A for users of
Shotwell
: This software has exactly the same function, accessible to "File" → "Add …"
Using Instant Messaging
Empathy
April 30, 2015, Facebook has stopped supporting XMPP / Jabber passing to version 2.0 of the API Facebook. Therefore, we can not discuss the social platform via Empathy
Using the XMPP Server
Introduction
Since March 2010, Facebook offers connecting to its instant messaging via the XMPP protocol.
To use this XMPP server, you must have an XMPP client. The one I used for testing is Pidgin, but it works for any XMPP client.
Connecting via the Facebook XMPP server
You must configure your XMPP client as follows:
Choose the XMPP protocol (if you are using a multi-protocol client)

Username: not the email address for the connection, but the <user> in the URL of your profile format

http://www.facebook.com/<user>

. To create one, go to 

this page

.

Password: your Facebook password

Domain: chat.facebook.com

Resource: it is you who choose, but those who connect via their browser will not see the difference

Disable SSL / TLS

Port Connection: 5222

Connection Server: chat.facebook.com

Proxy server for file transfer: proxy.jabberfr.org (or proxy.eu.jabber.org for example)
The XMPP server in Facebook does not allow inter-server communication. You can not add an address that is on another server. This is due to a compatibility problem with the Facebook site.
The Facebook XMPP server does not support changing your profile or status from the XMPP client.
Facebook's XMPP server does not handle registration of aliases at all. Feel free to change this part of the article if you can force Pidgin to save them locally only.
If you can not send messages to the Facebook chat via an XMPP client such as Kopete, Pidgin or Empathy, but your contact list is displayed and you receive messages from your contacts: the messages you send via your Client are not received by your contacts but you receive theirs without apparent error.
It seems that this is due to the fact that you have disabled all applications to interact with
Facebok
.
If you have just created a username, log out of Facebook on your browser, and sign in with your new username.Finally, from Pidgin, retry the
connection to Facebook messaging
.
I remember a Pidgin plugin to connect to Facebook
Indeed, there is a Facebook plugin for Pidgin , but it may cause some delay in the Purple motor. I advise you to use the method above.